Oval tube station
The ticket office will close for ever on 20 April and TFL will be carrying out works in the ticket hall for a month. The station will remain open and we'll be able to buy tickets from the machines.
Northern Line Extension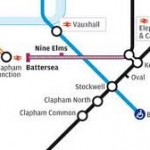 BT Openreach will be carrying out investigation works on their cable network in the area of Kennington Green for two weeks starting on 20 April. The work will be at night from 19:00 to 07:00. BT Openreach has advised that this work will be carried out by four workmen pulling cables from chamber to chamber. They will be using battery powered lighting and there will be no requirement to excavate or hand dig and no generators will be used.
Hyde has told the TA that BT have been reminded and requested to ensure they carry this work out as quietly as possible so as not to disrupt and disturb the community.
Work will also be being started on 20 April over by the Park, on Kennington Park Place, where two trial holes will be excavated. That work is planned to last approximately one week. Then, in May until July, a section of the same road (east of De Laune Street to 10 Kennington Park Place) will be closed so that excavation can be carried out to connect a new section of gas main.