Kennington Park Community Centre is threatened with closure.
Hyde Housing has been reviewing its community centres (see here) and our Community Centre may be demolished with the land used to build private flats for sale to the highest bidder.
The Tenants Association and local residents have been campaigning hard to save it.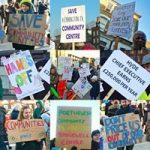 We have joined with Stockwell residents to organise a rally and demonstration, a lobby of Lambeth Council, petitions, videos, TV and press coverage. We have won the support of our MP, our GLA member and all our local councillors. Hundreds have signed our petitions.
We don't accept Hyde's argument that they can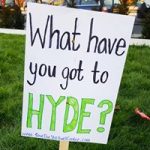 't afford to run our Centre – they have £95 million in the bank and our Centre only costs them £22,500 a year. We are talking to lawyers to challenge their broken promises and we are setting up a 'Friends of Kennington Park Community Centre' group to involve more of our local community in our fight (let us know if you want to join – savekpcc@gmail.com).



We've won twelve months!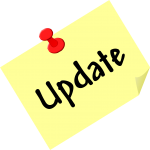 And we are talking to Hyde about the possibility of a management partnership between KPETRA and Hyde – and possibly one or more of our user groups – to run the Centre over those next twelve months. Our aim is to turn KPCC into a viable concern by maximising usage and bookings, seeking a balance between community and more commercial activities. We believe that we would then have a very strong case that our Community Centre must be included in any redevelopment plans for the site, as was envisaged in Hyde's original proposals and in compliance with Lambeth's Local Plan.
In order to involve as many people from our local community and neighbourhood in the running of the Centre we are setting up a Friends of Kennington Park Community Centre group. If you would like to be involved in this, please contact us via the comment section in the righthand column.
**********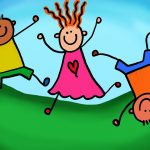 Hyde's full letter to residents detailing the outcome of its review can be found here (and see below for our response to their initial proposals).
Their key points are:
"An assurance that there will be no immediate changes at the centre and services currently provided will continue for the immediate future. 
That our interim recommendation is to work with the local community to explore how the centre can be kept open and available for community use over the next 12 months.
Confirmation of Hyde's position that we can no longer continue to fund our community centres.
Confirmation that because Hyde is no longer able to financially support the community centre our development colleagues are reviewing the options for the site and a final decision as to whether we are able to offer a replacement community centre as part of the redevelopment of the Harleyford site will be considered as part of that process.
An assurance that over the next few weeks we will be meeting with the groups and organisations that currently use the centre to talk to them about the potential changes and understand how we can best support them going forward.
An assurance that residents will be given an opportunity to view the updated plans for the Harleyford site before we submit a planning application.
That we are asking any organisations or groups who are interested in managing the centre over the next 12 months can contact us with an expression of interest at communitycentresreview@hyde-housing.co.uk by 5pm on Friday 3rd of March 2017."

The Tenants Association and our supporters are determined to show Hyde that we want and need our Community Centre. Our opposition to their plans and the argument that they cannot afford to fund us has been made very clear in every letter and every meeting we have had with them. We have repeatedly pointed out that they have been running KPCC down ever since they first mooted their plans to redevelop the site back in 2014.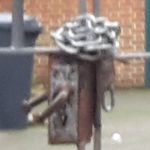 It is hidden behind locked gates and there is no sign of its existence and location on the main road. People struggle to find out how to book – and when they do it is pot luck whether they will be able to get in.
JOIN OUR CAMPAIGN!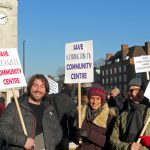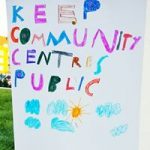 Sign our petition on change.org here
Look for us on Facebook – https://www.facebook.com/saveourKPCC/
and Twitter @savekpcc
and come to our next Campaign Meeting
[updated 6 March 2017]
********************************************************
The Tenants' Association and our local councillors have responded in depth to Hyde's consultation expressing our total opposition to Hyde's plans. Our responses are below and Hyde's reply can be found here. Our deputation speech to Lambeth Council can be found here.

1.  Kennington Park Estate Tenants' & Residents' Association's response
We are responding on behalf of Kennington Park Estate Tenant's & Residents' Association to the Hyde Group's recommendations in respect of the Kennington Park Community Centre.
Our response is in accordance with the instructions given to us at our most recent TRA meeting – a meeting held in the Community Centre, as are all our meetings. The TRA is the major user of the Centre.
Kennington Park Estate comprises 760 properties, the majority of which are family homes. Our residents are a mixture of Hyde tenants, leaseholders and private tenants. All are members of the TRA and we work at representing all their interests. We are an inner city estate with a diverse, multi-cultural, multi-generational population. Many of our residents speak little or no English; many are in receipt of benefits or on low incomes in insecure employment; many are lone pensioners or lone parents, while others are relatively affluent professional people. There are many children and teenagers. Anti-social behaviour is, sadly, not unusual. We consider it to be of the utmost importance that we build and sustain community cohesion on our estate. The Community Centre is at the heart of that endeavour.
The Promise
Kennington Park Estate was transferred into the stewardship of Hyde Southbank Homes by stock transfer in 2005. Hyde made many promises at that time to encourage KPE's residents to support the stock transfer. These included a promise that it would support the Community Centre on a long-term basis. Hyde explicitly promised:
The existing community buildings will be refurbished to provide facilities for all residents.
Buildings will be maintained in good repair and in good decorative order.
Non housing services such as improved community facilities [will be provided].
Dedicated staff to support community activities [will be employed].
[To] work with the Kennington Park Estate Community Centre……to create venues for local services such as health screening, older people's clubs and youth health education classes.
[To] encourage better and more regular use of local facilities such as the …Community Centre.
[To] work with local partners to improve facilities at the Community Centre.1
The Consultation
Hyde has not consulted all residents of KPE, all of whom have a stake in the future of our Community Centre. All members of all the households on our estate are past, present or potential future users of the Centre. It was coincidence that the TRA had a meeting on the day this Consultation was published which meant those residents present at that meeting were able to advise us of their views and mandate us on our response. However, it is not the TRA's responsibility to carry out detailed consultations on behalf of Hyde.  Hyde consulted residents in March 2015 on what design and activities we wanted from a new Community Centre (see below). Why have all residents not been consulted on its probable demise? What plans do Hyde have to consult them before making decisions?
Hyde's recommendation for KPCC is so confused and confusing that we do not consider this to be a valid consultation exercise.
You recommend to "continue the existing plan to close the Centre and redevelop the site of the building as part of the planned redevelopment of the Kennington Park Estate".
The "existing plan"? We have to assume that you mean the most recent plan on which KPE residents, the TRA, our local councillors and Lambeth Council's planning department were consulted. As we understand it there are two parts to this: the planned redevelopment of the 8A Harleyford Street site, and plans for a new Community Centre.
Following the publication of the current Consultation, Cllr Edbrooke asked Hyde for a summary of the "existing plan". This is what she was told on 30 November 2016:
Kennington Park – Harleyford Street – Original proposal: A block of eight flats (five 2-bed and three 1-bed) with a retail space and a community centre on the ground floor. 
This site is still in the design phase and has not moved on since the last public consultation event last year.  The development [has] been delayed for two reasons.  Originally the delay stemmed from a discussion between TfL and Sainsbury's (who hope to take the retail space on the ground floor), around location of a loading bay on the red route on Harleyford Street.  Secondly, Hyde's decision to review its community centres, including KPCC, means the development will be on hold until the outcome of that review is finalised.  Currently Hyde Plus is carrying out consultation on the recommendations for each centre, and the plans for the development will be reconsidered.
 We would draw your attention to the heading "and a community centre", and to "has not moved on since the last public consultation event last year". We are then told "plans….will be reconsidered when the review process is complete". Yet this "review process" says it is based on the "existing plan".
KPE residents were widely consulted about the future of the Community Centre last year (March 2015). We reported it on our website http://www.kenningtonparkestateresidents.org.uk/hyde-southbank/a-new-community-centre-march-2015/.
The Questions and Answers that were provided by Hyde then are reproduced in full here for ease of reference:
Questions and Answers
Why does the current community centre have to be rebuilt? The community centre is a place where residents and local groups can hold meetings and events, and where services can be delivered for people on the estate. For example, at the moment there are things going on at the Centre for young people, and Hyde has plans to provide free internet access for residents from the centre.  The Council and Hyde is also keen that community facilities are not lost as a result of regeneration projects.  Re-locating the centre to the ground floor of the proposed new development will allow us to provide a fresh, modern facility, which can accommodate a wider range of facilities for the benefit of residents. The new centre will provide much needed appropriate external space which will benefit the users.
Will the new centre be the same size as the current centre?  The proposed centre will be around slightly  smaller but better layout as currently there is a lot of unused space e.g. in the hallway of the community centre.
Will the new centre have an outdoor space? There will be a dedicated outside space for the centre, as we appreciate that external space is valued and is important.
Where can we hold our events when the community centre is demolished? Hyde (through Hyde Plus) will consult with the regular users of the community centre and work with them to find alternative accommodation during the rebuild. We have experience of doing this, with no ill effect on the users.  We are continuing to work with the KPE Tenants & Residents Association to explore possible locations for a temporary community centre, or places where current centre users can be moved to on a temporary basis.
Will we have a say in how the new community centre is designed? Residents' views will be encouraged and will be important. Hyde will carry out a needs analysis across the estate to see what demand there is for the centre – and what size and design is most appropriate.
Who will run the new community centre? The Community Centre will be managed by Hyde – through Hyde Plus.
So, Hyde's "existing plan" includes a rebuilt brand new community centre that will be managed by Hyde, through Hyde Plus.
Yet nowhere in the current Consultation is there any mention of any future management of any community centre, by Hyde or anyone else.
We can only conclude that this Consultation is so flawed as to be fraudulent and that, despite your warm words about "existing plans", Hyde has no intention of providing any facilities for KPE's community. Rather, your intention is to demolish our Community Centre and build private flats for sale on its land.
The TRA has always remained neutral about Hyde's proposed redevelopment plans for the 8A Harleyford Street site. We have asked numerous questions and have pointed out obvious shortcomings, such as Hyde's original proposal to allow delivery lorries to drive through the Estate past a primary school and then load and unload directly in front of occupied flats. But we have not taken a firm position in respect of Hyde's "existing plan".
However, we must make it explicitly clear that we will oppose any redevelopment plan which does not include the continued provision of a community centre funded and managed by Hyde, in line with its promises when KPE and the land the community centre stands on were given to Hyde by the ratepayers and residents of the London Borough of Lambeth in 2005 and the commitments made again during the 2015 consultation.
 Funding and Usage
Due to the uncertainty generated by Hyde's long drawn out redevelopment proposals, which have now been under discussion for over two years, there have been several occasions during that time when users were unable to book the Community Centre, or were only able to book it for a few weeks. Several potential projects have gone elsewhere. There are no longer activities during school holidays or half-terms. The Centre is closed during the day most of the time and rarely staffed or cleaned. Local councillors have stopped using it for their advice surgeries because of Hyde's frequent failure to provide access. Indeed, it is known more for the chains on its gates than on welcoming residents. Despite being beside a busy main road, few notice it is there as the signage is negligible. The TRA officers and other activists on the Estate have had numerous frustrating meetings with Hyde Plus staff where we have spelt out the need for far more activities to be organised in the Centre, particularly those which will provide facilities and activities for young people. We find it disingenuous for the Consultation to say that "targeted work" is being carried out by the Hyde Plus team. The occasional short-term project has been initiated in recent months but with very little publicity. The last time residents' views were canvassed was in March 2015 in respect of the proposed new Centre (see above).
Despite this, an analysis of the scarce data provided in the Consultation show that KPCC receives the lowest percentage subsidy, has the lowest running costs and is the most cost effective in terms of pounds of subsidy from Hyde/per user of all the six Centres. Yet it is the one Hyde intends to close and demolish.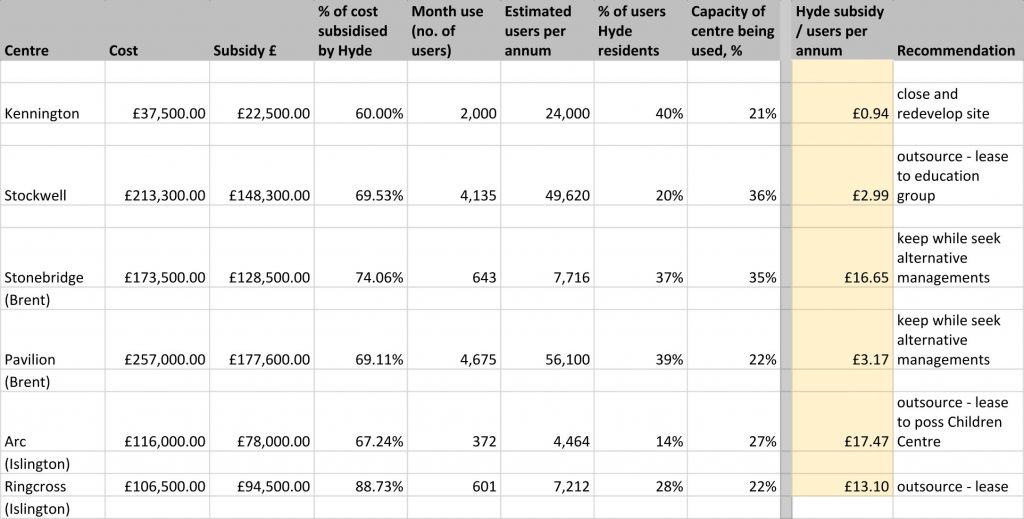 The data provided in the Consultation is another example of the flawed nature of this Consultation exercise. We are not told what period these figures cover. To which year do the annual costs refer? The past calendar year or the past financial year? Or another year? As we have pointed out above, for more than two years usage and income have been abnormal because of the uncertainty surrounding KPCC, and not just the uncertainty created by the proposed redevelopment (the "existing plan"). There have been frequent changes of staff and shifts in priorities. In order for this Consultation and Hyde's consequential decision-making to have any credibility usage, income and subsidy data for at least the past three, if not the past five years, need to be provided. Without such information we can only surmise that Hyde is divesting itself of the management and provision of its community centres on the basis of a whim rather than of a carefully considered and justified proposal.
Hyde asserts that it cannot afford to run our Centre or that at Stockwell. Yet HSH's accounts show a surplus for 2015-16 of £2,056,000, and revenue reserves of £46,136,000. Again, we refer to the commitments made when estates in Stockwell and Oval were transferred to Hyde by the London Borough of Lambeth.2
 "Any surplus money that HSH makes will remain within HSH and will not be shared with any other part of the Hyde Group." 2
In other words, those surpluses and reserves must be reinvested in HSH and are not available to the Hyde Group for other purposes such as building new housing for sale unless the proceeds are ploughed back into Hyde Southbank Homes and the services it provides, including the community centres.
We note that Hyde's principle argument for conducting this review and the conclusions it is drawing from it is the need to prioritise building homes. We do not dispute such a priority. Let us temporarily set aside the fact that the properties Hyde intends to build on the site of our Community Centre are neither affordable nor social rent homes, but flats for private sale. We are well aware that capital funding for new homes is not the same as the revenue generated from our rents. We do not believe that the revenue generated from our rents does not cover the £22,500 subsidy which was provided to keep KPCC open and running given that it is less than 2% of HSH's 2015-16 surplus and, as we have already pointed out, is linked to a time when the Community Centre's income was at its potentially lowest level due to Hyde's indecision and associated inconsistent management.
Alternative venues
As with everything else in this Consultation, the references to alternatives are flawed. There are several meeting places in the area; all are overbooked and most are expensive. The suggestion that Tate South Lambeth is a viable alternative is absurd and clearly not made by someone with any knowledge of the local area. Not only is it two bus rides away from KPE, our councillors tell us that it is not a Hub as described. Moreover, the suggestion that TRA meetings, let alone our other resident based activities, could relocate to there is completely impractical and inappropriate.
Our conclusion
This is a manifestly flawed, fraudulent Consultation. We believe that the words "existing plan" are being used as a smokescreen for Hyde's true intention to demolish our Community Centre and replace it with private flats for sale to the highest bidder.
Not only is the recommendation to continue the "existing plan" without putting forward any proposals for the future funding and management of the new Community Centre included in that "existing plan" deceitful and disingenuous, it is reneging on the commitments given to KPE residents in March 2015 when they were consulted on that new Community Centre. In addition, there is insufficient financial and other data provided for any reasonable person to reach any kind of reasonable judgement or to propose any reasonable and viable alternative.
The residents of Kennington Park Estate are opposed to the closure of our Community Centre and will oppose any redevelopment plan which does not include the continued provision of a community centre funded and managed by Hyde, in line with its promises when KPE and the land the community centre stands on were given to Hyde by the ratepayers and residents of the London Borough of Lambeth in 2005 and again in 2015.
We believe that, by withdrawing its support from KPCC and the other community centres, Hyde is missing an opportunity to show that it still holds firm to its vision "to make a lasting difference to people's lives".
Well-meaning amateurs are no substitute for professional community workers who are trained to identify potential, enable it to flourish and encourage integrated and inclusive communities on Hyde's estates. We would remind you of the following statement by the Department for Communities and Local Government in its Guide to the Localism Act (November 2011):
 Every town, village or neighbourhood is home to buildings or amenities that play a vital role in local life. They might include community centres, libraries, swimming pools, village shops, markets or pubs. Local life would not be the same without them, and if they are closed or sold into private use, it can be a real loss to the community.
The destruction of Kennington Park Community Centre will be more than a real loss to our community. It will damage the cohesion and social fabric of our Estate and we call on Hyde to reconsider its recommendations.
19 December 2016
—————————————————————————————
 1  Formal consultation on the proposed transfer of the Kennington Park and The Bridge Estates to Hyde Southbank Homes (2004) 
HSH'S OBLIGATIONS
18.1     HSH hereby agrees as follow:
18.4     Consultation Documents
18.4.1  To use its best endeavours to comply with all promises and commitments made to Existing Tenants as set out in the Consultation Documents
London Borough of Lambeth and Hyde Southbank Homes Stock Transfer Agreement: 21 March 2005 (Kennington Park and The Bridge Estates)
 ———————————
 2  Formal consultation on the proposed transfer of the Central Stockwell Neighbourhood to Hyde Southbank Homes Limited
Hyde Southbank Homes (1)
10.1     Any surplus money that HSH makes will remain within HSH and will not be shared with any other part of the Hyde Group.
Joan Twelves, Chair – Marilyn Evers, Secretary – Stephanie Reid, Deputy Chair
19 December 2016
_______________________________________________
2. Oval Councillors' response to the community centre consultation
For a number of years discussions have been happening around the future of the site of the Kennington Park Estate Community Centre.  We have always been told Hyde Housing hoped to use the site for infill housing, something we are not in against in principle.  Always, as part of these discussions, was the promise to re-provide the community centre.
We whole heartedly oppose the closing of the centre and reduction in community space in the area.
Planning Process
We would like to draw attention to Policy S1 'Safeguarding existing community premises' in the 2015 Lambeth Local Plan.
"Existing community premises, and land formerly in use as community premises, will be safeguarded unless it can be demonstrated that either: (i) there is no existing or future need or demand for such uses, including reuse for other community services locally, and adequate alternative accommodation is available to meet the needs of the area; or (ii) replacement facilities are proposed on or off site of the same or better size and quality to serve the needs of the area; or (iii) development of the site/premises for other uses, or with the inclusion of other uses, will enable the delivery of approved strategies for service improvements."
We are dubious that Hyde will be able to gain planning permission to redevelop this site without the re-provision of community space.
Poor management of the existing centre
Councillors and residents have been told that one of the reasons for the lack of investment in the community centre over the years was because of the long terms plans to rebuild it. We have seen the running down of the community centre and a lack of outreach to put on activities.
We originally, from 2010, held our surgeries in KPE community centre but had to move our surgery because we would often arrive to a closed building – unable to get in.
The use of the centre was run down seemingly as a specific policy presumably to produce low use figures. Groups have been unable to make bookings booking it. The figures are therefore inaccurate.
Funding
As a council we appreciate the impact of the short sighted government policy of reducing social rents by 1% and the pressure this brings.  However, we are about to start a public consultation on the CLIP process, where we will decide the local priorities for spending the local element of CIL (Community Infrastructure Levy).  Councillors have already set youth opportunity and access to jobs as a priority.  This is exactly the time Hyde should be pulling together projects to be run out of the community centre and seeking financial support via the CLIP process.
KPE is about to be on the door step of one of London's (if not the UKs) biggest developments – the Oval Gasholders development.  Residents should be able to benefit from this and Hyde needs to look to lever in additional funding at this crucial time, not taking away a community facility.
 Inadequate and flawed consultation
Local Councillors were not contacted regarding the consultation.  It was brought to our attention by the TRA.  The only initial consultation with residents we could see was a poster on the community centre door. No leaflets or letters, before Christmas, had been put through residents doors drawing their attention to the consultation. We note letters were delivered after Christmas when many residents are away.
We are very confused by the mention of Tate South Lambeth Library as a 'close community hub'.  This is in fact a library run by the Council and not, as stated in the consultation, run by the Friend of Tate South Lambeth Library.  The space is not available to hire by community groups during the day because the small building is in use as a library.  It is not suitable to hire for the large scale dance and exercise classes currently taking place in the Kennington Park Community Centre.  It is not even the nearest library to Kennington Park Estate – which would be Durning Library.
Demand and need
Only recently on a Saturday, whilst conducting our regular roving surgery, we were able to see the community centre in use by children for a dancing class.  It is clear a variety of groups use the centre.
KPE is the only community centre in the area for residents.
KPE has been on SNP promise list for the last four quarters due to youth anti-social behaviour.  Hyde should be employing more community engagement to support and facilitate young people to use the centre. Closing it will increase ASB on the estate. They are doing the opposite of what is required and therefore breaching their promise of what they would provide when taking over the housing stock.
Health outcomes for our poorer communities are unequal. We have a growing youth obesity challenge and a looming diabetes epidemic.  Access to affordable keep fit activities is essential. Residents are unable to afford more commercial classes. Less mobile residents unable to walk long distances to access classes as are children.
It discriminates against the disabled and poorer residents remove this facility.
It is worth noting that many parents are reluctant to allow their children across to Kennington Park because of the busy main road and gang rivalries with Southwark.  They feel safer allowing their children to go to the community centre on the estate.
 Creating a more cohesive and united community.
Getting together in classes at the centre increases not only physical well being but also mental health and community cohesion and prevents loneliness.  Having a focal point in the community centre creates a sense of ownership of the estate encouraging residents to feel part of the community and look after the estate.
Having a civic centre is essential to a well run estate.  Removing it prevents access for residents, not only to groups but to a meeting space to contribute and express their civic roles and responsibilities. It therefore speaks to a systemic failure of Hyde and indicates they are merely a commercial organisation that has now moved from their own covenants and purpose as a housing association. Therefore query the legitimate basis for them to describe themselves legally how they do if they go down this route.
Cllr Jane Edbrooke, Cllr Claire Holland, Cllr Jack Hopkins
Ward Councillors for Oval Ward