Kennington Park Estate is currently an island of tranquillity surrounded by traffic chaos and lots of traffic cones, heavy machinery and people in hard hats and hi-vis jackets. Whether that tranquillity will last when tunnelling for the Northern Line Extension starts, or if Hyde's redevelopment of the Community Centre site goes ahead, remains to be seen.

The Northern Line Extension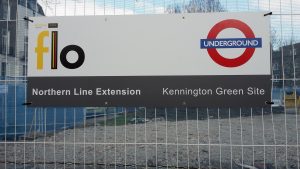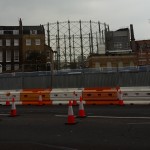 A shaft and head house are being constructed at Kennington Green. The work here has just started and it is anticipated that it will be a worksite for at least three years. Lots of information can be found here http://www.tfl.gov.uk/northern-line-extension.
Oval Triangle

Transport for London is making a lot of changes to the roads, junctions, traffic lights, crossings and cycle superhighways all round the Oval Triangle, Harleyford Street, Kennington Park Road and Kennington Road.
The roadworks here are likely to last a year…
More information at: https://consultations.tfl.gov.uk/roads/oval and
https://consultations.tfl.gov.uk/betterjunctions/oval
Cycle Superhighways

So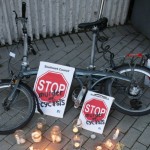 me of the changes are to make travel safer for cyclists.
CS7 – the existing cycle superhighway which goes along Kennington Park Road en route from Merton to the City – is part of TFL's Oval Triangle Improvements.
CS5 is being extended from Oval to Pimlico via the Vauxhall gyratory with a segregated cycle track. More information here:
http://www.tfl.gov.uk/travel-information/improvements-and-projects/cycle-superhighway-5
Vauxhall Cross

TFL have been consulting on Vauxhall Cross and the future of the Bus Station – their latest report can be found here:
https://consultations.tfl.gov.uk/roads/vauxhall-cross/.
Oval Gas Holders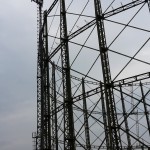 We have reported previously on the OAKDA development site masterplan, the current home of the Oval Gasholders, part of which occupies the space between two parts of Kennington Park Estate (Brockwell and Grace Houses to the west and the rest of the Estate to the east) (see here and at http://www.oakda.co.uk/) and the Hyde MORE proposals for the Harleyford Road/Community Centre site here.
Welcome to the Kennington Oval building site!