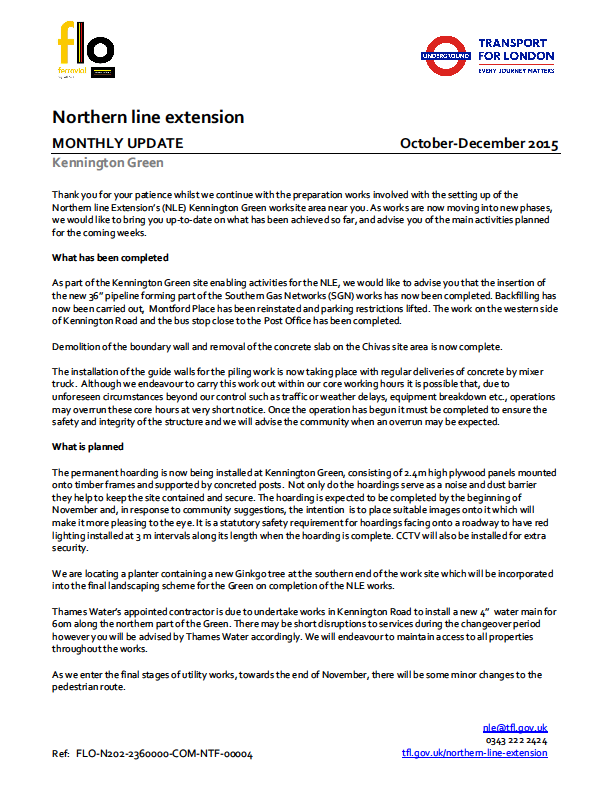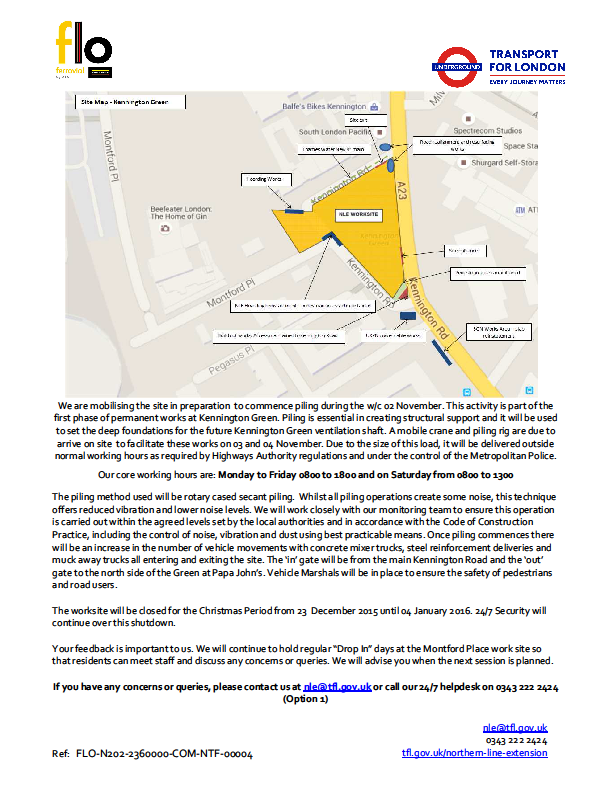 **********************
And some further information from Thames Water
"As stated in our recent Update, works are required to renew the Thames Water main along Kennington Road. This pipe has been found to be in extremely poor condition and Thames Water are taking the opportunity to renew this whilst the Northern Line works are taking place to ensure that properties continue to receive a reliable water supply, which is liable to fail if this work is not carried out.
From 29 October we will be excavating trial holes to determine each connection to the properties. Following this we will excavate and install the new main along Kennington Road. Once tested and chlorinated we will then switch the individual properties from the existing main to the new pipework.
Loss of supply is not expected until the changeover works – Thames Water will notify directly when this is expected.  This may involve loss of water for a period of 3-4hrs.
Works are expected to last until early in the New Year. We will ensure that all excavations and holes are reinstated over the Christmas holiday period. Access to properties will be maintained.
It would be appreciated if residents can be understanding in that we may need a few minutes to install road plates to gain access across excavations during working hours and, advise us in good time should they have any specific times when they will require access. Our Vehicle Marshals will be in place to assist also.
We apologise for any inconvenience this work may cause, it will be carried out as quickly as possible and we will continue to monitor the works to ensure they remain within the agreed environmental limits.
Please be advised that the Crane and Piling Rig are scheduled to arrive on Tuesday 03 November and Wednesday 04 November and you may observe early activity on site at Kennington Green.  These will be delivered by the haulage company as abnormal loads under the instructions of the Metropolitan Police and Highways Authority at approximately 5:00 a.m.  The regulations require heavy loads to be delivered prior to peak traffic hours. Upon arrival each day, they will be parked quietly on site until the start of our core working hours at 8:00 a.m.
Should you have any queries or concerns, please do not hesitate to contact us or the 24/7 Helpline on 0343 222 2424 (Option 1).
Kind regards,
Andy Fletcher
Community Liaison Representative
NORTHERN LINE EXTENSION – FLO
Southbank House, Black Prince Road | London SE1 7SJ
afletcher@ferrovial.com
andy.fletcher@team-flo.com
+44 (0) 7701 395 783
NLE 24/7 HELPDESK 0343 222 2424″